Roll over image to zoom in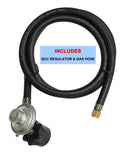 Description
Description
STAINLESS STEEL PANEL Double Burner Table Top Gas Cooker with removable BRASS BURNER CAPS, FLAME FAILURE SAFETY DEVICE, CERTIFIED FOR INDOOR USE. please refer to photos.
Fully compliant with NZ Gas Regulations
Certified for Indoor Use
Safety feature - flame failure safety device/flame supervision safety device – the safety device will stop gas leak from the burner when the flame is accidentally extinguished
Strong stainless steel panel for easy maintenance and long durability
Automatic ignition – NO mains power or batteries required
Gas Type: LPG
Gas Pressure: 2.8 kPa
Gas Inlet: 1/4" BSP-M CONED
A NZ Certified QCC regulator and 1.5m hose with the correct size end fitting SUPPLIED with this gas cooker. Please refer to the pictures.
HIGH HEAT CAPACITY: Total 27.7MJ/h=7.7KW=26255 BTU/h (LEFT BURNER: 12.2MJ/h=3.39KW=11563BTU/h RIGHT BURNER: 15.5MJ/h=4.3KW=14691BTU/h)
Burner: Left = 100mm Right = 120mm - High Efficiency BRASS swirl flame burner cap – NO RUST
Easy full range flame control
Full stainless steel structure, prevents rust and corrosion ensuring durability
Enameled trivets to withstand high temperature and prevent rust
Minimum BASE diameter of flat base POT and PAN = 16cm
Minimum TOP diameter of flat or round base WOK = 26cm
Modern, elegant and durable design, will last for years if maintained correctly
Dimensions (WxDxH): 710mm x 375mm x 145mm
Payment & Security
Your payment information is processed securely. We do not store credit card details nor have access to your credit card information.