Roll over image to zoom in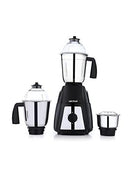 Description
LEE STAR LE 823 is a robust design with a shock-proof ABS body and includes super sharp stainless steel blades with 3 stainless steel jars with flow breakers and dome-shaped lids.

It has a front knob control 3+ pulse speed setting.

Blending Jar can be used to perform all types of blending, liquidizing & wet grinding operations such as preparation of lassi, milkshakes, purees, juices, Idli & dosa batter, etc.

Dry/Wet Grinding Jar can be used for grinding items like Coffee beans, Coconut chutney, groundnut, sugar, palak, etc.

Chutney Jar can be used to grind small quantities of cumin, dhania, coconut, green chilly, pepper, garam masala, etc.

Voltage: 230 V AC 50 Hz, Power: 750 W, Rating: 30 min, R.P.M: 18000 approx, Housing Material: ABS Plastic.

Do not run the mixer grinder unless the lid is in place and held firmly with hand. Always ensure Dome lid and Dome Cap are in place before starting. Be sure to switch off your Mixer Grinder after use. Wait until the blades come to a halt before removing the cover.

6 Month motor warranty for domestic use only.
Jar Capacity - Small jar 200 ml (approx.)
Medium jar 1200 ml (approx.)
Large Jar 1400 ml (approx.)
Payment & Security
Your payment information is processed securely. We do not store credit card details nor have access to your credit card information.