Roll over image to zoom in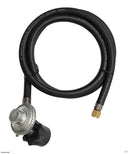 Description
Brand New LPG QCC Gas Regulator & 1.5m Hose Assembly with an Outlet of 1/4" Brass Swivel Nut
New Zealand Certified
This QCC regulator is approved for indoor and outdoor use.
Product Features
* Quick Closing Coupling (QCC)
* Easy to fit the common 9 kg cylinders by hand tightening nut clockwise. (9kg gas bottles are the most common size which are sold in The Warehouse, Mitre10, Bunnings Warehouse and most petrol stations)
* 90 degrees angled regulator
* Output Pressure 2.8kPa
* Flow Rate 2.0 kg/hr
* 1.5M hose (max approved length for indoor use)
* Temperature Activated Shut-off and Excess Flow Control safety features
* Outlet - 1/4" brass swivel nut (convex inner fitting)
Note
* Please check the outlet of your gas cylinder for correct connection type, identified by the big and deep MALE thread on the outside of the cylinder connection. Please see photo for a sample. (some really old gas cylinders do not have QCC connection, however, the old bottles can be swapped at most of the petrol stations)
* Read the instructions before connecting.
Payment & Security
Your payment information is processed securely. We do not store credit card details nor have access to your credit card information.