Roll over image to zoom in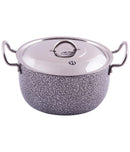 Description
Size 11 Dia approx 21cm height 11cm
Size 12 Dia approx 23cm height 12cm
Size 13 Dia approx 25cm height 13cm
Nagina power coating stock pot is a modern version of the traditional Indian cooking utensil used for flavorful, less water cooking. Its lid holds water on the top and on its underneath surface, condenses steam that rises from the food simmering in the stock pot. The reverse taper of the sloping sides of the stock pot permits water droplets to fall directly on to the food inside the stock pot thus making delicious, tender and moist food.
Photo for reference only
Payment & Security
Your payment information is processed securely. We do not store credit card details nor have access to your credit card information.